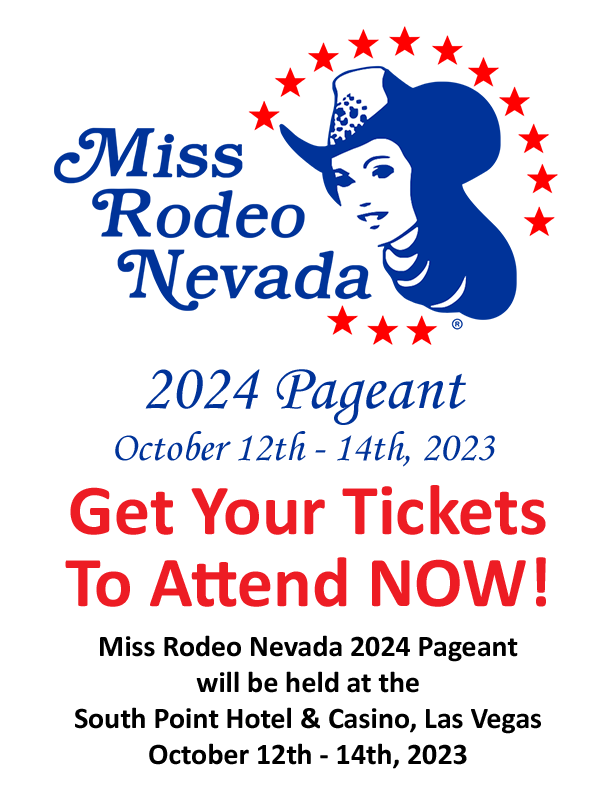 Get your Tickets to watch contestants compete for
the Crown and Title of Miss Rodeo Nevada 2024
Below is the PayPal button to obtain tickets.  Use your PayPal account or choose to use a credit/debit card without a PayPal account.
NOTE:  Please choose 1 or more tickets (Quantity) to order, otherwise PayPal responds with: "Things don't appear to be working at the moment. Please try again later." (You're trying to order 0 (zero) tickets.)
---
---
Tickets are $75.00 per person to attend specific pageant events and competitions.
Tickets purchased are a donation to the Miss Rodeo Nevada Association to help cover costs of the pageant.  Remaining proceeds is used by the MRN Association in it's mission to support Miss Rodeo Nevada throughout the year in her travels and activities.
The 2024 Pageant Schedule and Itinerary (event dates, times and locations at the South Point Hotel & Casino) can be found here:  MRN 2024 Pageant Schedule & Itinerary.
We truly appreciate your support and hope to see you, your family, and friends at the Miss Rodeo Nevada 2024 Pageant!
PREVIOUS PAGEANTS EVENT PHOTOS