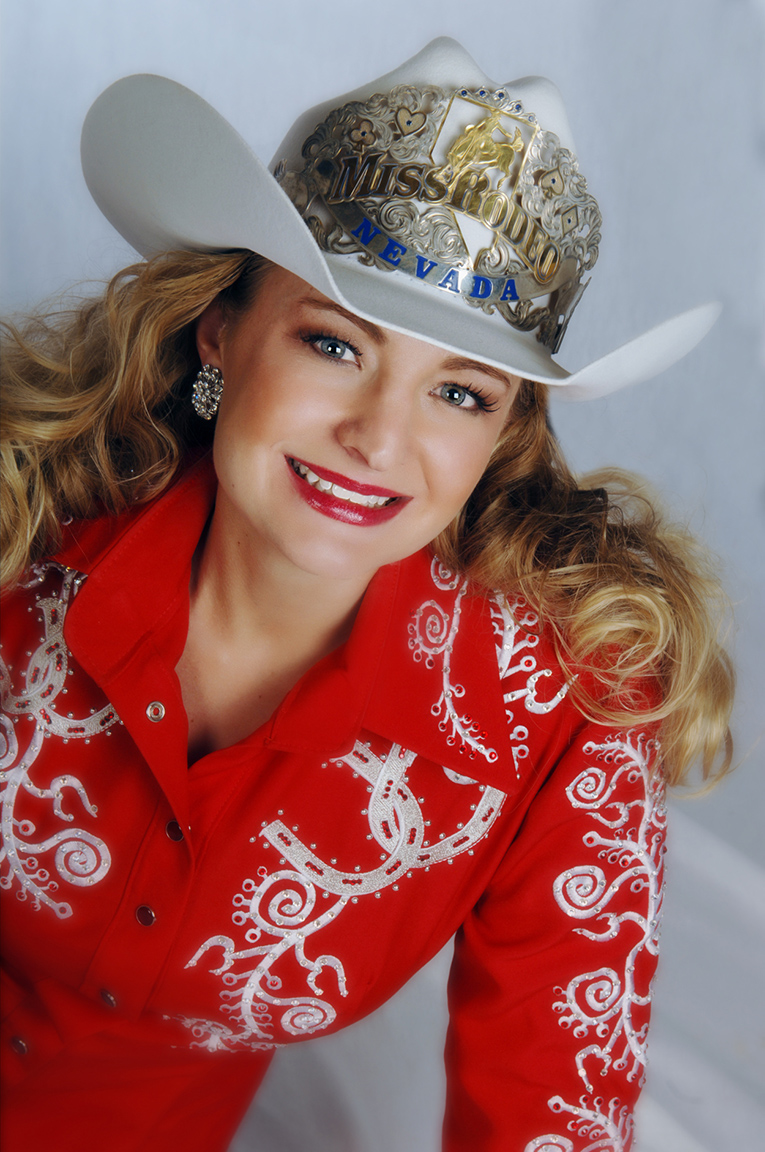 Miss Rodeo Nevada 2011
Ann Clemmitt
Growing up with visions of horses, Ann Clemmitt's infatuation with the beautiful equine creatures began at the early age of 7 years old. Clemmitt spent summers with her Aunt, the catalyst to her learning everything she knows about horses and rodeo. Long hours in the saddle riding, grooming, and caring for horses, this was a dream come true for young Clemmitt. Getting to watch them, bond with them and learn from them was the greatest reward for this young cowgirl.
Clemmitt, originally from Bishop, California grew up with one younger sister. Her family relocated to Reno, Nevada in l995. The family suffered the loss of their Father and devoted Husband the day after Clemmitt turned 16 years old. Leaving her Mother to raise both daughters as a single parent, her Mother worked hard and long hours to provide for her daughters and give them the life they desired. Challenging at times, but sharing with them the values of never quitting or giving up no matter the circumstances. This shows in everything Clemmitt is and does today.
Throughout the years, Clemmitt has pursued her equine involvement competing in Team Sorting, Team Penning, Reining, Breakaway Roping, Barrel Racing, Showing in 4-H and the Intercollegiate Horse Show Association (IHSA). Clemmitt started her pageant life in 2005 when she joined the Reno Rodeo Flag Team. Clemmitt remembers being in the arena watching the grand entry in awe. She thought the Rodeo Queen's were so professional, beautiful, graceful and could ride like the wind. All of the qualities and attributes Clemmitt feels are the true representation of a rodeo queen. She competed in her first pageant in 2008. From there Clemmitt's passion deepened and desire to move full steam ahead to become Miss Rodeo Nevada.
Clemmitt graduated from the University of Nevada, Reno in the spring of 2011 with her Bachelors of Science degree in Information Systems. One of Clemmitt's long term career plans includes working towards and receiving her Project Management Certificate. Clemmitt currently works for the Apex Performance Solutions which is helping her towards her career goal to be a Project Manager for Microsoft.
Among some of Clemmitt's honorary mentions throughout the years; she held Officer positions throughout her involvement in 4H, served as Historian and Treasurer in Intercollegiate Horse Show Association (IHSA) Joined the Junior Reserve Officers Training Program in High School winning numerous awards to include the highest honor of Superior Cadet Award her Sophomore year and commanded the unarmed drill team for three years.
A bright, intelligent and caring young lady, Clemmitt enjoys being able to give back to her community with her involvement with the Black Stallion Literacy Project, the Reno Rodeo, and supporter of the "Mom's on the Run" Breast Cancer Awareness Program. She participates in several fundraisers throughout the year.
When not on the road representing the great State of Nevada, Clemmitt enjoys her family life, time spent with friends, attending her Toastmaster's Club, scuba diving and Zumba. A true modern day cowgirl and Rodeo Queen, Clemmitt is a walking emphasis of the western life standards; integrity, honesty and excellence. Clemmitt states "Living in Nevada has been such a blessing. Rodeo has deep roots in the Silver State, and there could be no greater honor than to represent the State and sport I love as Miss Rodeo Nevada 2011"